Jules Jackson
Painting & Drawing

Jules Jackson (American, b. 1996) uses folklore and fantasy to explore the spiritual dimension of transitioning from female to male. Through painting, sequential art and film, Jackson investigates the conflict between nature and technology, centering relationships between humans and animals.

His current work, Into the Wolf Burrow, is a multimedia narrative that draws a connection between the transformation of a werewolf and the process of gender transition. This series will be on view at the Institute of Contemporary Art in Chattanooga in April 2022. Jackson is working toward his BFA in Painting and Drawing from UTC, with an expected graduation date of 2023. His work was most recently exhibited in Tiny Things at Wavelength Gallery in Chattanooga from December 2021 - January 2022.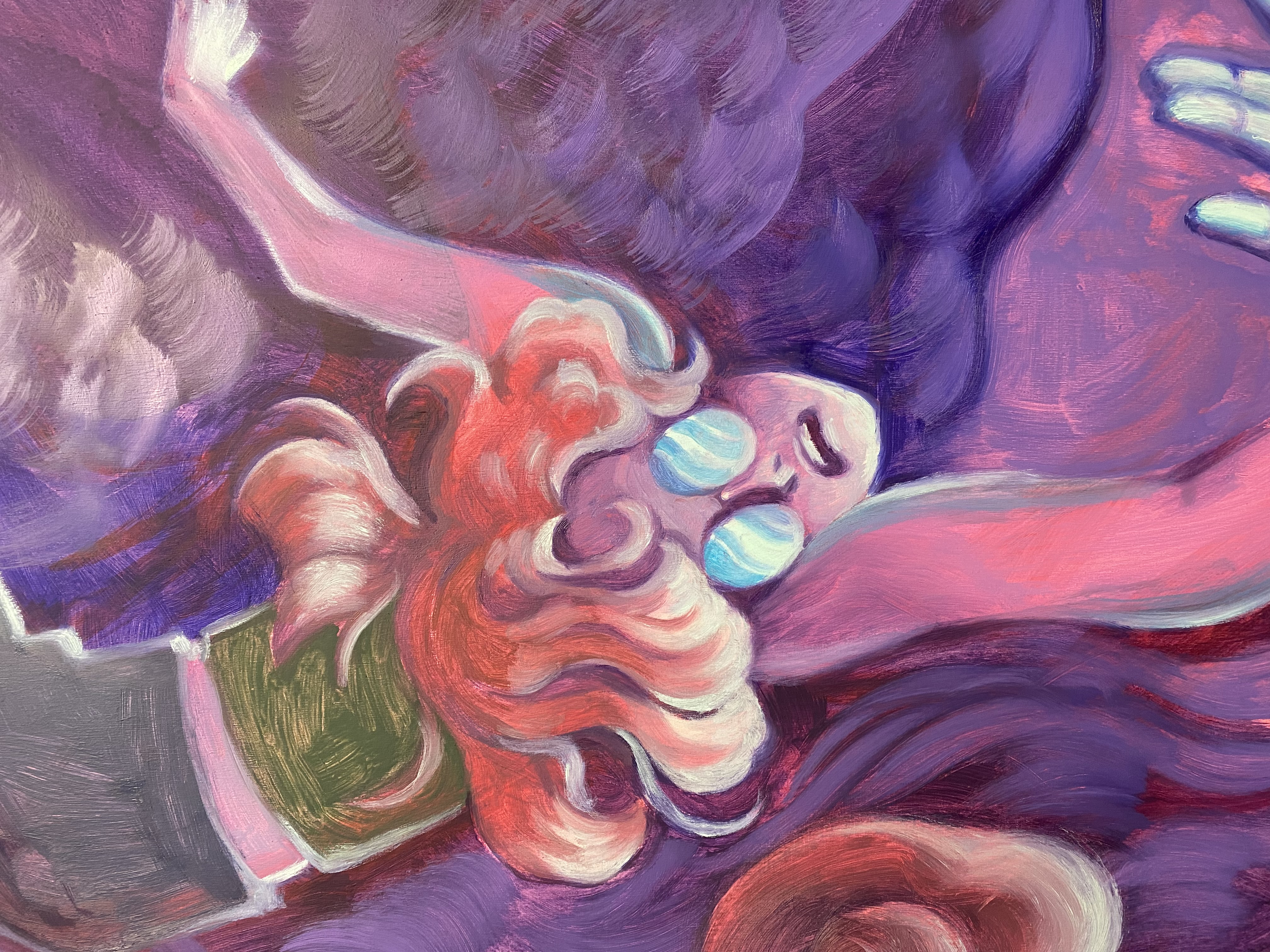 Studio Images, 2022


Artist Statement:

Miraculous and Terrifying uses the werewolf as a symbol for gender transition, exploring the act of becoming male as a spiritual and primal phenomenon. The werewolf transforms in a distinctly masculine way - by growing bigger, more muscular, hairier - and this mirrors the process of using testosterone to masculinize the body. As a half-man, half-animal, the werewolf connects to a primal aspect of human nature.

Undergoing a gender transition can feel like going backwards in time - regaining control over one's body after years spent in dysphoric limbo. When I started taking testosterone, my life began again. As my transition continues, my old body dies and I am reborn, fully-formed into manhood.

My work often builds on my coming-of-age experience in the early 2010s, which was characterized by the advent of technology as a dominating force in society. As a young teenager, technology represented a window into the wide world of possibilities. It represented freedom. Likewise, the characters of Miraculous and Terrifying cling to their technology as a guiding light as they try to figure out how to become adults. But there is a conflict between this reliance on external technologies, and deeper spiritual truths that can only be uncovered by looking inward. Imogen's journey into the wolf burrow represents that journey inward, ending in his rebirth into the world, fully-formed into manhood.