Mya Hollingsworth
Photography & Media

Mya Hollingsworth (American, b. 1998) explores themes of beauty, introspection, fashion, and the black gaze within her work, working primarily alone for her self-portraits or with other black female subjects for other personal photographic projects. She photographs her subjects, including herself, in a style that is heavily influenced and inspired by fashion and Tableau vivant photography, otherwise described as "a living picture." These images are clean in appearance, carefully composed, possess unique color palettes, are theatrically lit, stylized, and can be narrative or expressive, speaking directly to the artist's taste and interests.

"My photography practice serves as a visual diary for me and is a form of self-expression. It allows me to escape the realm of reality, even if just temporarily, to enter into a world specifically crafted to be captured.''Hollingsworth is currently pursuing her BFA in Photography and Media Arts at the University of Tennessee-Chattanooga She will be officially degreed on May 07, 2022. Her new and current self-portrait Nebula from the umbrella series Kaleidoscope Dream features portraits of the artist within another created realm of space full of sparkles, glamour, beautiful colors, and self. Fashionably Late, her latest self-portrait series, similar in style to her current project, was presented on display during the 2021 Juried Exhibition Show Immortal Messages curated by artist Ellex Swavoni. Her next major exhibition showcase will be held at the Institute of Contemporary Art at UTC from April 12 - April 22, 2022, for her senior thesis exhibition.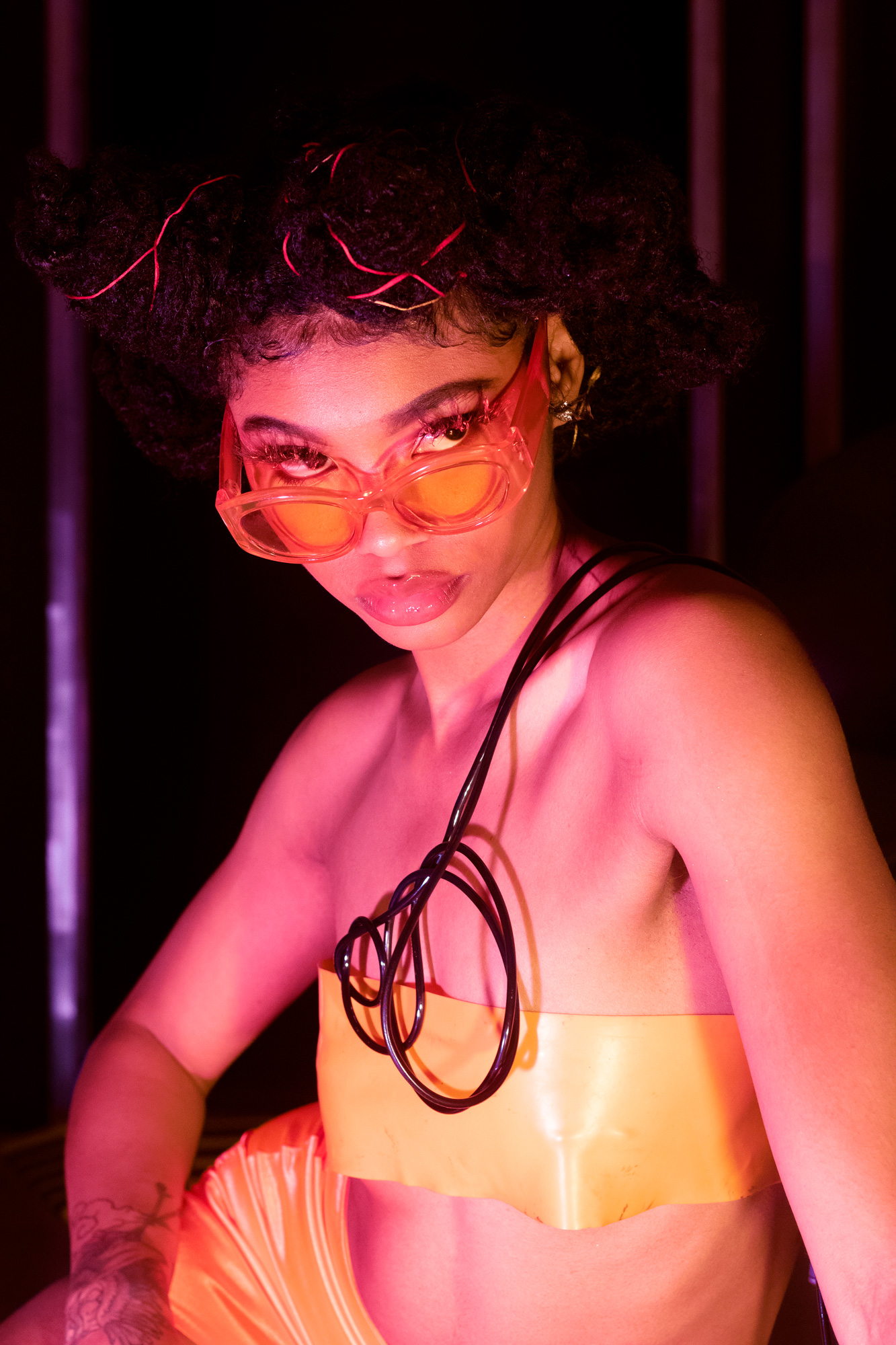 Nebula, 2022


Artist Statement:

Creating stylized fashion-esque portraits of black female subjects, including myself, that embrace, celebrate, and glamorize black beauty while highlighting its versatility, individuality, and uniqueness is my ultimate goal within my current photographic art practice. I am particularly interested in exploring central themes such as introspection, self-love, and self-exploration through my self-portraits. I, the artist, become the model while actively making deliberate creative decisions from behind and in front of the camera, using a photo-timer, live camera view, and Bluetooth camera connection. The evolution of my practice stems from my influences of, and interests in, the black female gaze, the celebration of black womanhood, creative writing, narrative and emotion-evoking imagery, fashion and beauty, fanciful aesthetics, fictionality, and the creation of fictional worlds and spaces. Recollections of past experiences and self-identity also hold great significance to the theme development of a large portion of my overall portrait work. I often reveal pieces of my experiences through accompanied personal writings that act as copy or "text" for my self-portraits, as seen in my series Then It All Falls Down and The Select Few. However, the content and intentionality of this writing material differ vastly from that of the copy typically found within editorial magazines, for I tend to write from a place of more poetic creative expression and rambles, specifically to exude vulnerability, transparency, softness, and rawness. Through my writings and set-building, I can temporarily escape reality and enter into crafted worlds that serve as safe spaces for self-affirmation, reflection, and authentic and glamorized representations, recognitions, and the honoring of the black woman, the black body, and black beauty. My art practice becomes a public visual diary, at times collaborative, allowing me and my models to visually project inner thoughts and perceptions of self back into the world in a glamorous, fashionable manner. Creating compelling images that catch the eye using unique, bold color palettes, composition, lighting, wardrobe, glitz, glam, and underlying narrations allow the photos to exist in the world beyond the walls they rest on and pop from the four borders that confine them.